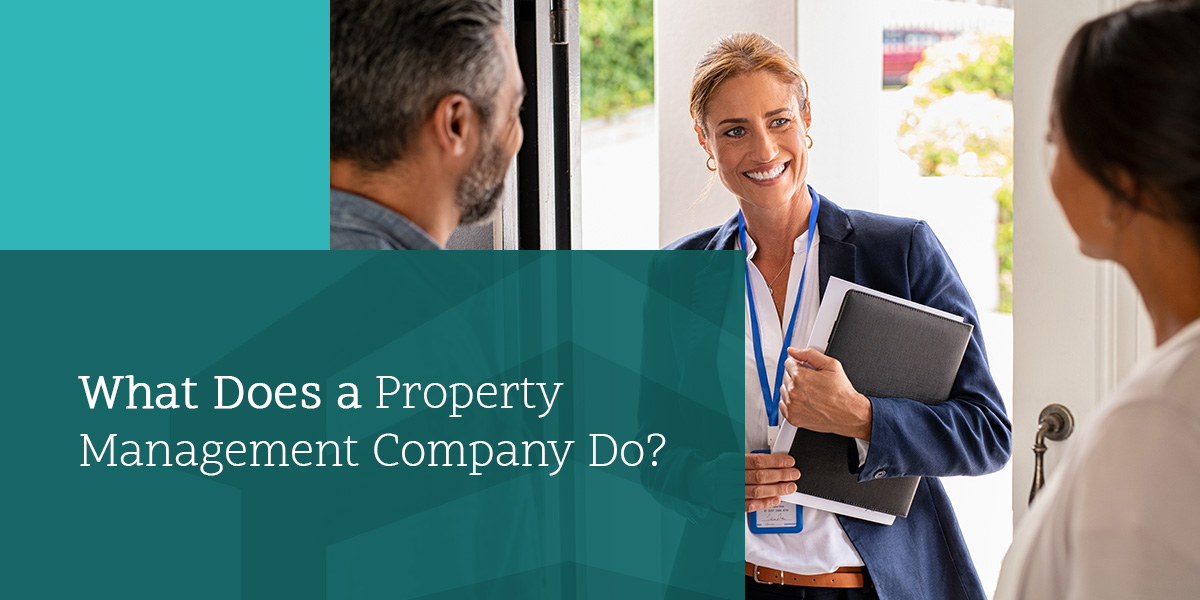 Owning a property requires a great deal of time and effort to ensure the happiness of your tenants and the stability of your business. Many of the responsibilities that fall to property owners include maintenance, advertising, screening tenants and handling evictions. However, many rental property owners might feel overwhelmed by the sheer number of tasks or simply don't have the time to manage the property properly.
Rather than keep up with the responsibilities yourself, a property management company can help. These qualified companies can handle the day-to-day tasks of running a rental business and provide you with more time to focus on other endeavors. Learn why hiring a property management company can be right for you.
What Is a Property Management Company?
Managing a rental property comes with many overhead responsibilities to ensure that the business runs smoothly. A property management company helps rental property owners handle the day-to-day management so you don't have to, including upkeep, maintenance and security. They'll oversee all the management responsibilities on your behalf to maintain a steady cash flow from your investment.
Property managers can help owners of all types, whether they're investors looking for a passive income or those who want to be more hands-on but are inexperienced or overwhelmed by the number of tasks.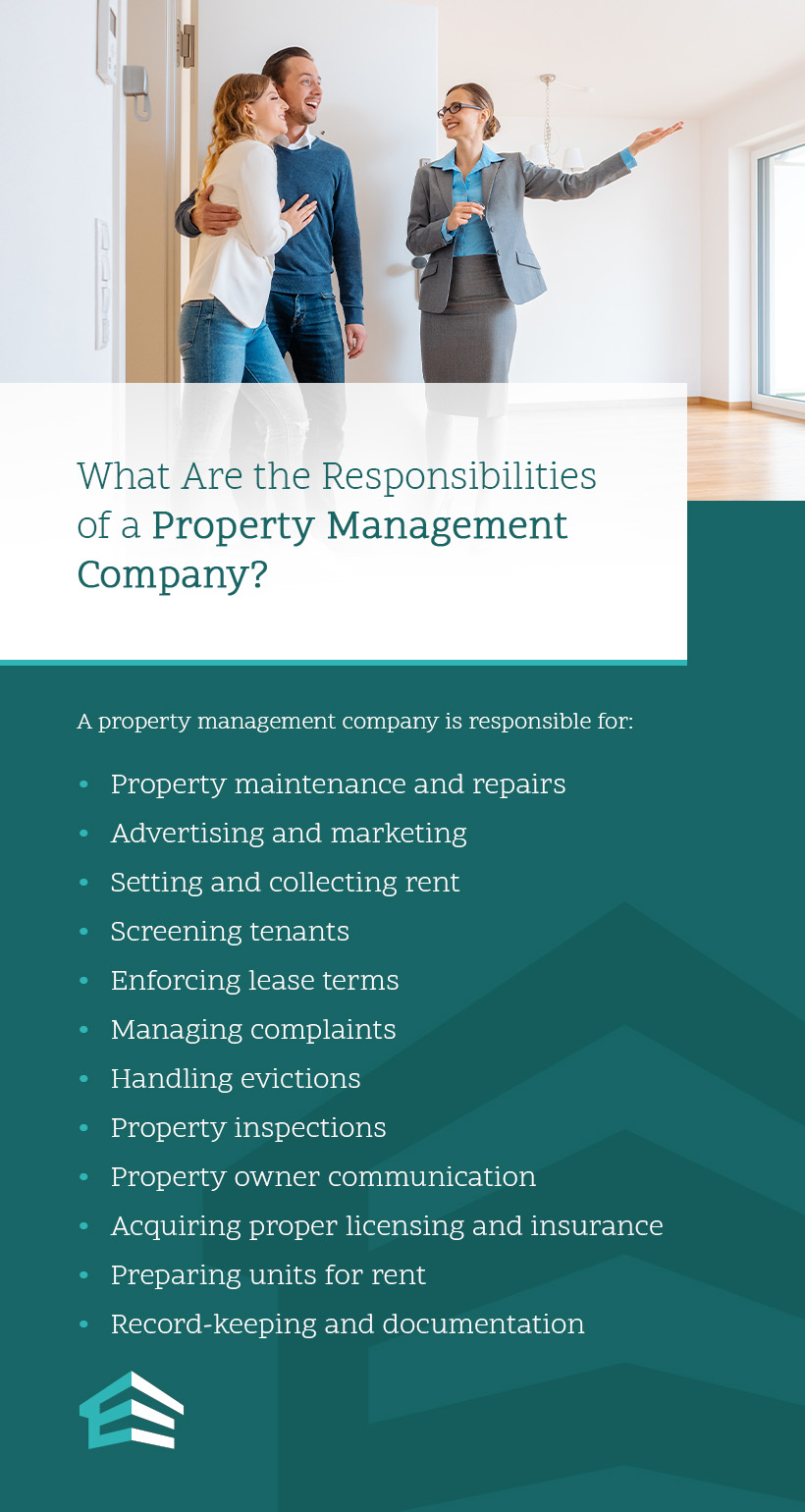 What Are the Responsibilities of a Property Management Company?
The responsibilities of a property manager include the day-to-day tasks that would usually fall on a landlord or property owner. A property management company is responsible for:
Property maintenance and repairs: Rental properties require continual maintenance to ensure the property is well-maintained and up to standards. Tenants need repairs when appliances malfunction, and common areas need constant upkeep. Maintenance and repairs can take a lot of time for property owners. A property management company can take over these responsibilities themselves or hire a vendor. Maintenance and repairs include HVAC repairs, pest control, exterior cleaning and landscaping.
Advertising and marketing: Marketing is essential for owning a rental property since tenants come and go regularly. Property managers have the experience and tools necessary to market your property and fill vacancies. They can promote the best features of your property and obtain responsible tenants who can pay their rent on time and care for the property.
Setting and collecting rent: Property managers are experts in the field and can properly assess the value of your rental property. Based on market trends and conditions in the neighborhood, they'll set fair rent prices that won't discourage potential tenants while still ensuring a profit. Property managers are also responsible for collecting rent from tenants on time.
Screening tenants: Tenants' background checks are an essential part of the renting process to ensure they are responsible enough to pay their rent on time, follow lease terms and have a solid rental history.
Enforcing lease terms: A property manager will go over lease terms with potential tenants before signing the lease agreement. The agreement should include policies that outline how management handles lease violations. The property management company will enforce any of the consequences for rule violations.
Managing complaints: Tenants sometimes have complaints, which can become time-consuming. Handling complaints on top of other responsibilities can be too much for a single landlord or property owner. Property management companies can handle these complaints efficiently using their vast knowledge in the industry. They may even use tools like an online portal to sort complaints and streamline the process.
Handling evictions: Handling evictions can be a long and tedious legal process, especially for property owners unfamiliar with the process. A property management company is familiar with the eviction process and knows to follow the proper steps to prevent the eviction from being thrown out in court.
Property inspections: Regular inspections help property owners recognize things that need maintenance or repairs and ensure tenants comply with required maintenance. Inspections also cover move-in and move-out, seasonal inspections and drive-by inspections. Property management companies will handle the inspection responsibilities so you don't have to, saving you time to focus on other projects.
Property owner communication: When you work with a property management company, they'll communicate with you regarding the performance of your property. Communication includes reviewing rent increases, informing owners about repairs or maintenance or discussing legal matters.
Acquiring proper licensing and insurance: A property management company is responsible for obtaining the appropriate licensure to meet each state's requirements. These companies also handle the insurance requirements, which help protect the business, tenants, properties and clients and prevent unnecessary lawsuits.
Preparing units for rent: Each unit must be prepared for new tenants before you can start collecting rent. Preparation includes inspections, maintenance, repairs, upgrades and other time-consuming requirements. A property management company can help property owners handle all the tasks and prepare units for rent quickly and efficiently.
Record-keeping and documentation: Record-keeping and documentation are essential for running an efficient and organized business. Property owners need to track lease agreements, income and other crucial documents for tax season and smooth business operations.
With a full-service property management company, you can rest easy knowing that they'll handle all the tasks associated with running a successful property rental business. The right property manager has vast knowledge in the industry to help you sustain a passive income and quality reputation as a rental property owner.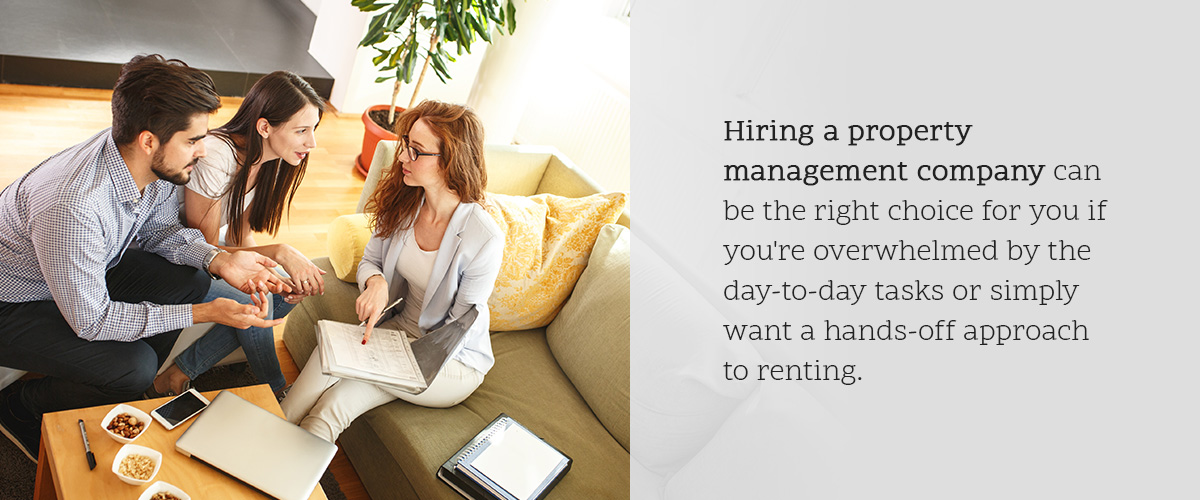 Do I Need to Hire a Property Management Company?
Some property owners don't need to hire a property management company, but a landlord might need a little more help if some of the tasks of managing a property become overwhelming. Hiring a property management company might be beneficial to you if you:
Manage many properties: The more rental properties you own, the more responsibilities you'll have. There will be more maintenance, vacancies and complaints to manage as well. You'll also need to consider the costs of traveling between each property. A property management company can help you manage the responsibilities at your multiple properties to take much of the responsibility off your shoulders.
Live far away from your rental property: If you live a substantial distance away from your rental property, it can be challenging to manage this property from your primary residence. You'll have to travel constantly and may not be able to respond to emergencies promptly. Collecting rent on time can even become a challenge. A property management company can help you manage your property, no matter where you are. You may even save money by hiring a property management company since you won't have to pay for travel as much.
Need hands-off management: Many landlords invest in rental properties to make a passive income. A property management company can provide you with hands-off management to focus on other endeavors and handle all the day-to-day tasks of owning a rental property.
Have limited time: Managing a rental property can be time-consuming, quickly turning into a full-time job. If you already have a job or have outside responsibilities that keep you from giving your property the attention it needs, a property manager can help you successfully run a business without a hefty time requirement. You'll be able to spend more time exploring other investments, working another job or taking care of outside responsibilities while resting easy knowing that your rental property is taken care of.
Can afford the cost: Property managers charge a monthly fee to help you manage your property. The average monthly fee typically ranges between 4% and 10% percent of your monthly gross income for the property. The more units you have, the lower the fee percentage. Some management companies may also charge tenant placement fees, which is additional pay for securing a new tenant in a vacant unit. Assess your finances before hiring a property management company to determine if you can afford the cost.
Limited experience with managing properties: If you don't have a lot of experience managing a rental property, making mistakes as you're trying to learn can hurt your potential profits and reputation. For example, you might take too long to prepare a unit for rent, leaving a rental vacant longer than necessary and losing out on potential income. You may also be accused of discrimination if you are unfamiliar with the Fair Housing Act. Hiring an experienced property management company can help you overcome these challenges, keep your cash flow intact and improve your business's reputation.
Experience high vacancy rates: If you're finding it challenging to find or keep tenants, a property management company can help. They have plenty of experience finding and screening tenants promptly. They'll fill all your vacancies and ensure each unit is up to standard to ensure you have a steady flow of income.
Own a property that is part of an affordable housing program: Participating in an affordable housing program can quickly get complicated, especially if you don't have much experience in rental property management. Landlords in these programs often receive financial assistance for agreeing to rent to tenants below a specific income. Landlords must comply with a particular set of rules to continue receiving this assistance, which can become complex and tedious. A property management company will have experience with these programs and can help you navigate the uncertainty with ease to ensure that your property continues to qualify for financial assistance.
Hiring a property management company can be the right choice for you if you're overwhelmed by the day-to-day tasks or simply want a hands-off approach to renting. Property managers can provide you with a passive income to focus on new investments or additional endeavors.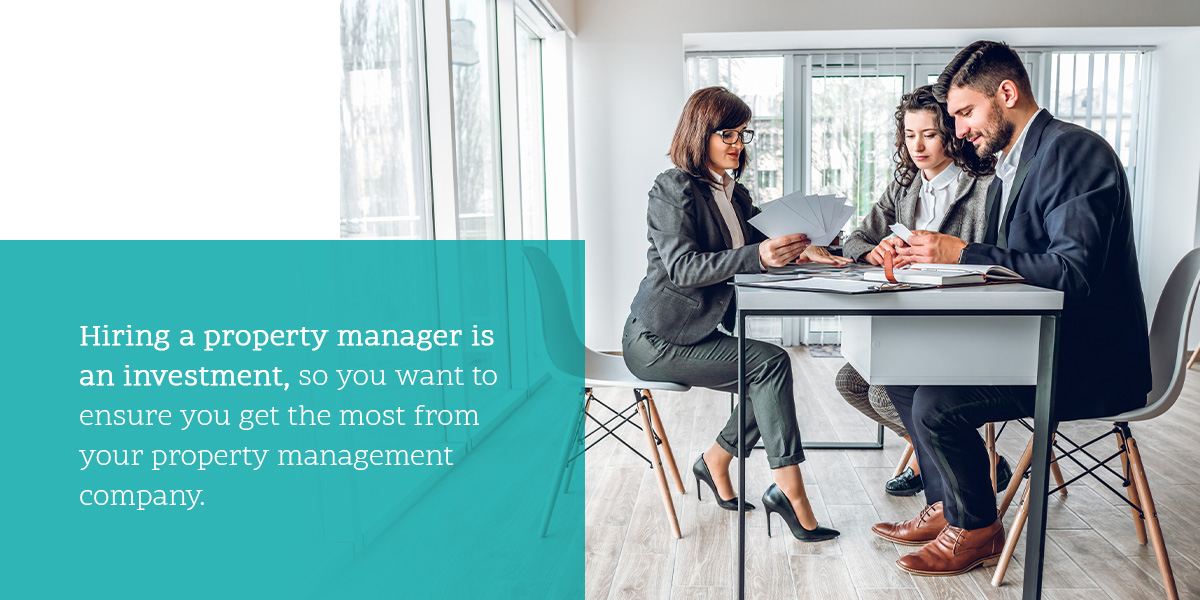 How to Find a Good Property Management Company
If you've decided to work with a property management company, you'll want to do your due diligence to ensure you find a highly qualified and experienced property manager. You can do this by:
Visiting their properties: On-site visits can help you evaluate the quality of a property management company. Keep an eye out for any piled-up debris, trash or need for repairs. These can be signs that the property management company is falling behind on its responsibilities. You can also reach out to tenants who live on these properties to determine if the company handles their complaints in a timely and appropriate manner and whether they're happy living in the community.
Interviewing property owners: You should interview multiple property owners to ensure you're finding the right fit. Question other owners about the management company's experience and knowledge of local and federal law, their fee structure and their services, such as the specifics of their property maintenance and the procedure for collecting rent.
Getting referrals: Referrals are one of the best ways to find a reliable property manager. Talk with your real estate agent, friends or other property owners to see who they would recommend. Once you get a few referrals, conduct thorough research to ensure the property manager is properly licensed and has no complaints against them from other property owners. You can also ask the person who gave you a referral about the company's strengths and weaknesses and what it was like to work with them.
Checking licensing and certifications: Your state's real estate commission and the Better Business Bureau can help you check the licensure and certification of the property manager you're considering working with. Ensuring that property management companies have the proper licensure and certification can help you sort through your options and choose a qualified company to help you run your business.
Another part of finding a good property manager includes reviewing and asking questions about the tenant lease agreement. The tenant lease agreement is a binding contract that outlines the requirements of management and tenants and the procedure for handling disputes or complaints. Ask the property manager specific questions to ensure the tenant lease agreements they use are up to standard, such as:
What is the security deposit for new tenants?
How much is the rent, and what is the length of the lease?
How do you handle late rent, and is the procedure outlined in the lease agreement?
What are the responsibilities of the tenant included in the lease agreement?
What consequences do tenants or management face for breaking the lease?
Who can the tenant contact for questions versus maintenance or repair requests?
Finding the right property management company can take time, but making an effort can prevent you from working with a company that does more harm than good. Hiring a property manager is an investment, so you want to ensure you get the most from your property management company.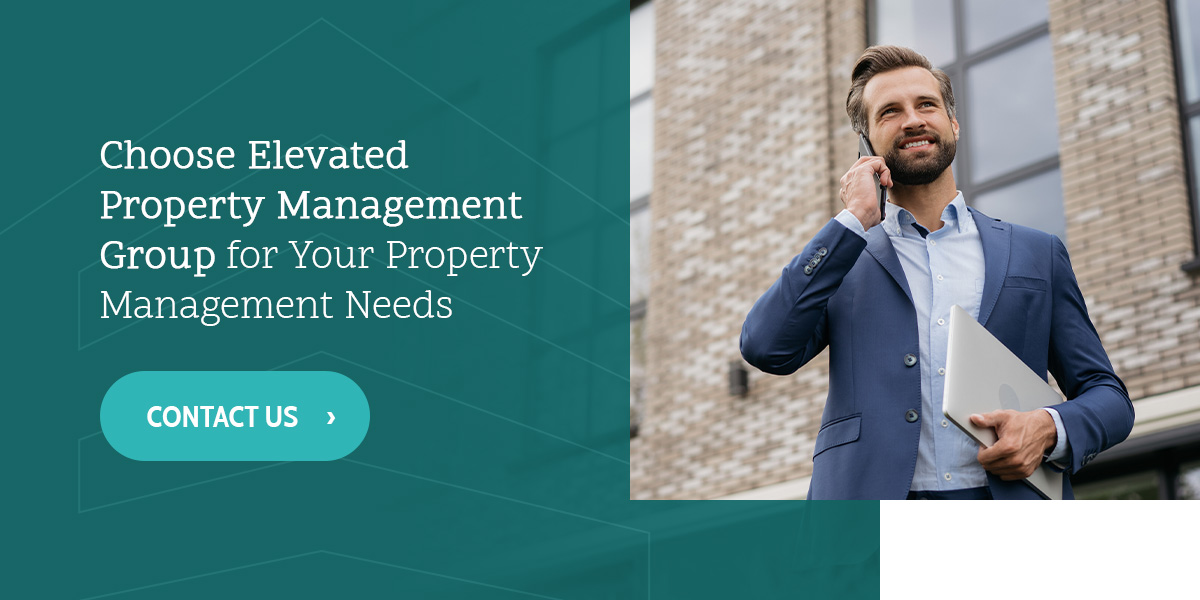 Choose Elevated Property Management Group for Your Property Management Needs
Hiring the right property management company can take many of the responsibilities of owning a rental property off your shoulder while still generating a stable income. An experienced and qualified property manager can help you stay on top of day-to-day management tasks and reduce your liability.
Elevated Property Management Group is a qualified property management company based in Albuquerque, New Mexico, looking to help our local communities thrive. We offer various property management services, such as maintenance requests, marketing and rent collection. Contact us today for a free consultation and learn more about how we can help your property flourish.