If you're renting a home or looking to rent, renters insurance covers your personal belongings in the event of theft or damage. While many believe their landlord is responsible for coverage, this doesn't extend to the tenant's private property.
In this renter insurance guide, we'll go over why renters insurance is necessary for your peace of mind and financial freedom and what to look for in rental insurance to ensure you're covered in an unexpected incident.
What Is Renters Insurance?
As the name suggests, renters insurance is a branch of insurance aimed at protecting renters' belongings and providing them with other legal coverage. If you're a renter, your landlord's insurance does not cover your belongings. Their insurance covers the property, but nothing you brought in when you took residence. You need renters insurance to protect yourself if something unexpected happens.
While New Mexico renters insurance is not legally required, it's advisable to protect yourself, your guests and your belongings. The average renters insurance policy costs between $15 and $30 per month, which could be money well-spent when compared to the cost of replacing your belongings.
What Does Renters Insurance Cover?
While many people question whether renters insurance is worth taking out, it may be the best way to cover your personal property in the event of an unexpected incident. In the long term, renters insurance could save you significant money. There are four main coverage components of renters insurance, including the following:
Personal Possessions
Renters insurance covers any loss or damage to your personal property. If there is water damage, for example, or something is stolen from your rented home. Depending on your policy, your property is covered to your limit for the following perils:
Fire and smoke
Snow and ice collapse
Explosion
Vandalism or theft
Falling objects
Mold and water damage
Wind and hail
Liability
If someone visiting your property is injured and decides to sue you, your rental insurance will cover some or all of your liability costs and legal representation.
For example, if a visitor trips on a dog toy in your garden and decides to sue you to cover their medical bills, personal liability coverage will reimburse all or a portion of your legal fees and costs of damage if the courts decide you are liable for the incident.
Additional Living Expenses
Suppose your rental home becomes uninhabitable due to something covered in your policy, like a flood or fire due to an electrical fault. Your renters insurance will take on your everyday living expenses, including having to check into a hotel or order food from a restaurant because you can't cook at home.
Note that renters insurance only covers additional living expenses if your rental homes become unlivable due to a covered loss. If your home becomes unlivable due to something outside your policy, your insurance provider will not reimburse you for these costs.
Accidental Injury Costs
Renters insurance also covers medical expenses — within the limits of your chosen coverage — if your guests are injured on your rental property. In this instance, who is responsible for the injury is irrelevant. In the event of an injury, your policy could cover your guest's hospital stay, x-rays and treatments.
Accidental injury cover excludes visitors and typically doesn't cover you or anyone else listed on your policy.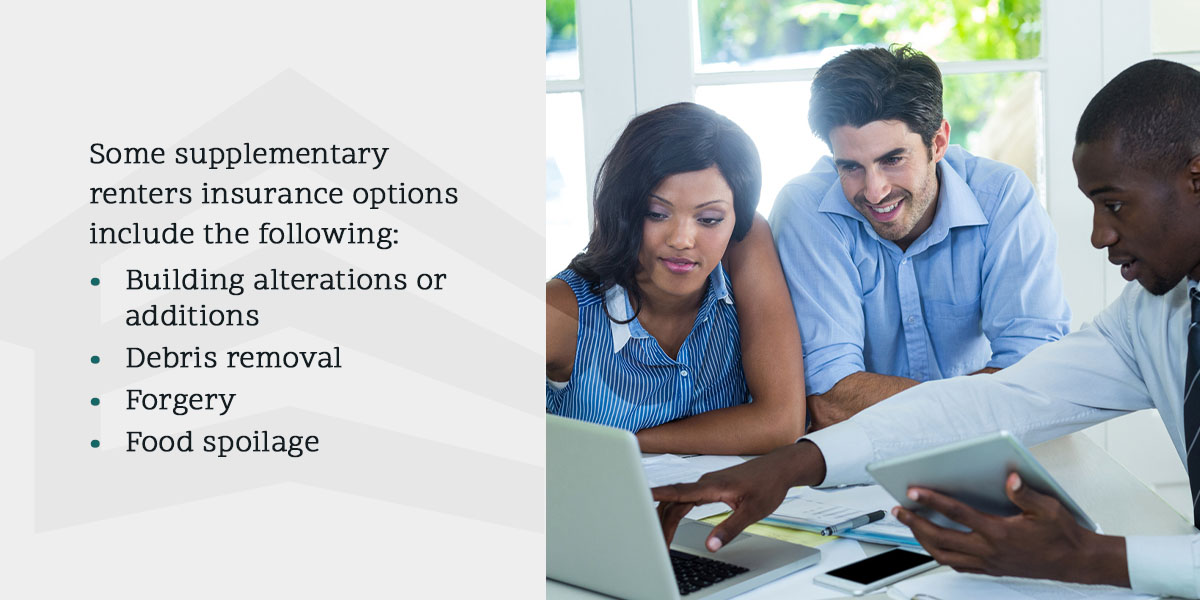 Supplementary Rental Insurance Coverage
Outside of the four primary renters insurance coverages, you can also consider supplementary coverages as needed. Each insurance provider may offer additional coverage, so check with your provider before deciding whether to opt in. Some supplementary renters insurance options include the following:
Building alterations or additions: If you upgraded or made alterations to your rental home at your expense, your rental insurance may cover any damage to these areas from a covered event.
Debris removal: In the event of a covered loss, you can opt for your renters insurance to cover some of the costs of removing debris.
Forgery: Some renters insurance offers coverage in case of losses due to credit card or check forgery. While this coverage is limited, it could be helpful if you're a victim of theft, for example.
Food spoilage: Power failures resulting from food going off in your refrigerator or freezer might be covered in your policy.
What Doesn't Renters Insurance Cover?
While renters insurance is highly beneficial, there are some exclusions you need to know. Some risks are simply not covered, while others have limited coverage. Some of the events and items not covered by renters insurance include the following:
Dog breeds: While renters insurance often covers you if your dog bites someone on your property, in some cases, certain dog breeds are excluded if they are deemed dangerous.
Jewelry: Your coverage may be limited to high-value items like jewelry, personal computer equipment, silverware and sports equipment. It's best to double-check your coverage limits for expensive possessions.
Pests: Most renters insurance policies will not cover damage due to bedbugs, rodents and other pests. Although there are some exceptions, pests are considered a maintenance issue, which is not included in most renters insurance policies.
Floods and earthquakes: Most standard renters insurance policies don't cover floods and earthquakes. Depending on your policy, you can get coverage as an add-on or buy a separate policy for these events.
Car theft or damage: Your renters insurance doesn't cover your car. If it gets stolen or damaged, your belongings inside the vehicle at the time are covered.
Other people's property: If you have a roommate, your renters insurance only covers their belongings if they are specifically listed on your policy. Encourage your roommate to take out their renters insurance rather than add them to your policy. Sharing a policy with a nonrelative means the coverage is split if you need to make a claim, regardless of whose possessions were lost or destroyed.
What to Look for in Rental Insurance
When choosing renters insurance, knowing what you'll get in exchange for your premium is best. Take the following into account to ensure you select the right insurance for your needs:
Limits: Renters insurance has a limit for each category of coverage — liability, personal possessions and accidental injury. Ensure you have enough coverage under your chosen policy to prevent being out of pocket after an unexpected event.
Events: Understanding the circumstances in which you will — and won't — be covered is critical. If your policy doesn't cover something, you need to be aware to make another plan.
Deductibles: If you suffer a loss, you'll need to pay a sum towards the insured loss, known as a deductible. Ensure that you can afford your deductible amount if you make a claim.
Replacement costs vs. cash value: Some renters insurance covers the replacement of a lost or damaged item with a brand-new addition, while others insure your items for their current cash value. Ensure you know what coverage you're getting.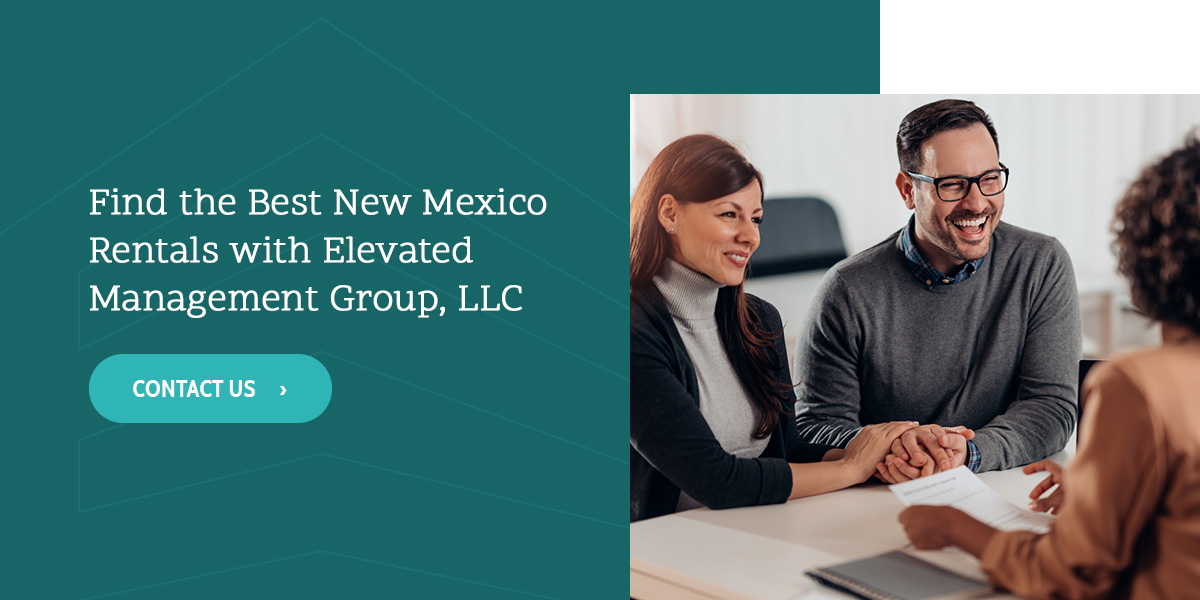 Find the Best New Mexico Rentals with Elevated Management Group, LLC
Elevated Management Group, LLC, is a top-tier, full-service property management and sales organization throughout New Mexico, including Albuquerque, Farmington, Rio Rancho and Bernalillo. Our vast rental experience and focus on customer service help to benefit landlords and tenants by doing things the right way from start to finish.
Our staff is licensed and always looking for ways to streamline the landlord and tenant experience. With Elevated Management Group, LLC, you can look forward to top-class services for single-family homes, condos, multiplexes and apartment buildings with 100 units or less. If you would like to know more about what a property management company can do for you, please contact us today, and one of our licensed property specialists will be in touch to answer all your questions.