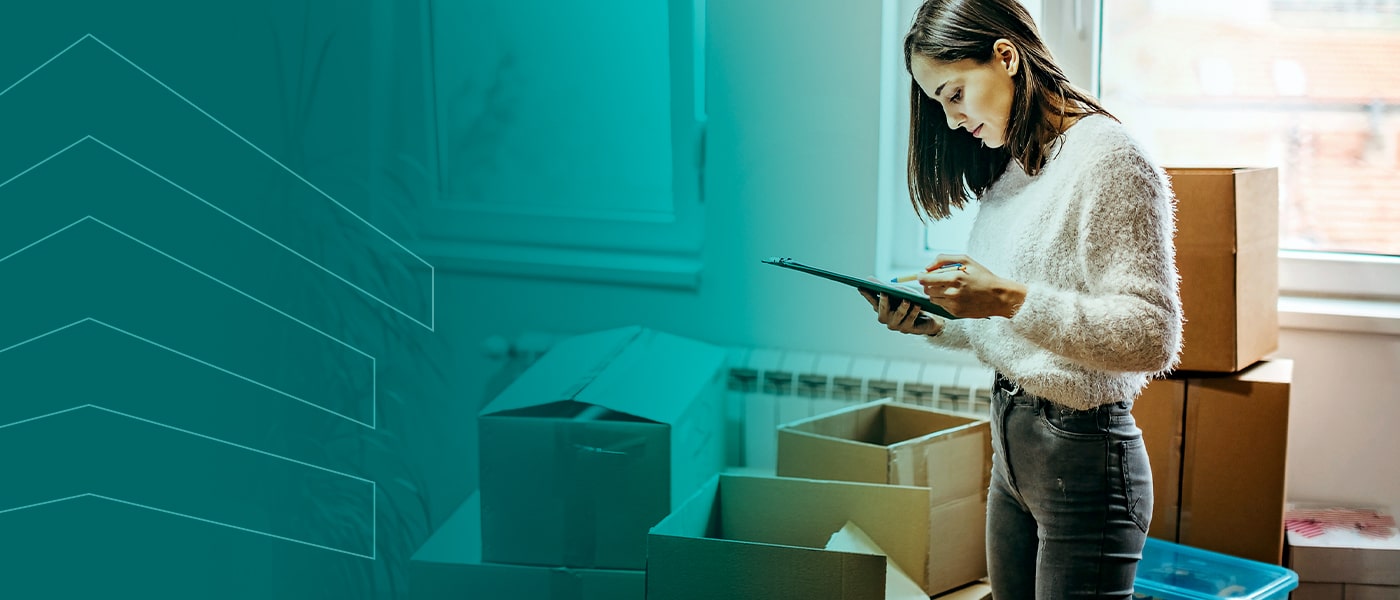 Whether celebrating the purchase of your dream home or moving to a new rental, there are plenty of things to remember before returning your keys. The most important things to consider are organizing the move, the rental policies and your security deposit.
Follow this guide with steps and rental property move-out tips to ensure a smooth transition where you tick all the boxes, satisfy your landlord or property manager and get your security deposit back.
2 to 3 Months Before Moving
Sixty to 90 days before is typically when you think about moving out of the property. Here's what to do when vacating a rental property with several months' notice.
Check Your Financial State
Before deciding to move out, be sure you can afford your move and new accommodation. How much you will need depends on your situation and risk tolerance. Here are a few things to consider before deciding:
Your job situation is stable: You can cover your new rental amount with limited risk.
You earn three times the monthly rental: Most property owners prefer you to make at least three times the monthly rent for your comfort and theirs.
Damage or security deposit: The deposit is typically equivalent to one month's rental, though it may differ.
Application or holding deposit: Some property managers require a fee for your application to secure the property, and there may be additional costs if you have pets.
Bills and utilities: These may differ depending on where you move to and the size of your new residence.
A good credit score: New leasers may do a credit check to determine your financial health and ability to honor the rental payments.
An emergency fund: Many experts agree you should have a three-month to six-month emergency fund to cover these expenses.
If you have the income to upgrade your rental, consider the benefits of buying property instead. Use a renting vs. buying calculator to discover the potential financial obligations of each.
Locate All Your Tenancy Documents
It is advisable to find all documents pertaining to your lease agreement, such as:
The signed lease agreement.
Additional written agreements with the leaser during your tenancy.
Communication — emails, letters and texts — with your landlord.
Receipts for your rental payments.
Receipts for any repairs and maintenance you did.
Copies of utility bills.
Contracts with the utility companies for the rental address.
Insurance documents for the rental property and contents.
Your initial move-in report of the property — including photos, if possible.
Review Your Lease Agreement
The lease agreement stipulates what to do when vacating a rental property with the terms for receiving your security deposit and regulations regarding utility transfers and any maintenance obligations. It outlines the notice period — typically one month — and which party is responsible for which duties.
Inspect the Property and Make a Repair Plan
Using your move-in report and inventory, carefully review the property. If you live in something other than an apartment, check outside as well. Note and photograph any damages, including preexisting defects and expected wear and tear.
Identify which damages are or may be deductible from your security deposit. Knowing the tenant and landlord's repair responsibilities will help make things more straightforward. You must return the property as it was when you moved in, minus expected and acceptable issues. Start making an itemized plan of things you are responsible for repairing.
6 Weeks Before Moving
It may seem like a while away, but the next month and a half will go by quickly. It's time to start looking for your next residence.
Request Proof of Character
Politely request a reference letter and tell your landlord of your intent to move, though it is not a formal written notice at this point.
Start Looking for Your Next Residence
Knowing how to choose the right rental property for you is an important first step. It would be best if you considered various aspects, from budget and expenses to neighborhood and availability of amenities.
The rental application process can be smooth with the right property manager. Read the agreement thoroughly and ask the right questions before signing the lease for your new home.
1 Month Before Moving
Although one month is the norm, many of these to-dos will need to be ticked off within specific timeframes, so please be sure to check the required periods.
Provide Written Notice
After finding where you will move next, draft a written notice letter and send it to your leasing agent to officially inform them.
Pay all Relevant Bills
It would be best if you were current with all fees, charges and bills. Your provider will transfer your services to the next property if your account is clear. If there are bills on the rental property you haven't paid, your landlord has the legal right to use your security deposit to cover these costs.
When you leave the property, utilities might still require payment. If you pay cash, supply enough money to cover these and request a receipt. Some of the bills you may need to service are:
Taxes
Utility bills — water, electricity and gas
Waste management
Service fees — cable TV, streaming services, internet and landline
Pet rental fees
Renters insurance
Yard and landscaping service fees
Notify Utility and Service Providers
You want all your services and deliveries made to the correct address. You may need certain utilities and services disconnected or canceled and transferred to your new home. If you need utilities turned on at your new place in time, be sure you organize these.
You may easily forget who you need to notify when you move — these are some you should inform:
Your employer
Internet and landline providers
Bank and credit providers
Insurance and other policy providers
Schools and universities
Doctors and dentists
Scheduled deliveries
Change Your Address with the USPS, IRS and DMV
Ensure your post arrives at the correct address in the future and inform the USPS® of your change of address by mail, phone, internet or at your local post office.
In certain instances changing your postal address is sufficient, but you may need to notify the IRS of your address change too.
Finally, find out the DMV rules for the different states and inform them of the move, as you may need a new license and vehicle registration.
Change Your Rental Insurance
Get in touch with your insurer and let them know about the move. Your cover must last until you move. Also, ask them whether they offer relocation coverage to protect your belongings during the move. If you do not have renters insurance, it is advisable to learn about rental insurance and consider finding a suitable plan.
Make an Inventory List
An inventory list helps you keep track and see how long it might take to pack everything and how much space you need in a truck. When moving to a smaller place, you may find only certain things fit. In this case, rent a storage unit to keep your belongings safe until you have the room.
Oversized furniture only sometimes fits through narrow doorways and takes more space in the truck than anticipated. Take a measuring tape and check the dimensions of anything you suspect might be problematic. You can dismantle particular furniture, so set the tools for this aside.
When you go through your things, find all documents and records, such as medical, school and insurance, and keep these in a safe place to prevent loss.
Start Planning the Move
Moving can be costly. Creating a moving budget is a great place to start. Get all your essential moving supplies ahead of time and know how many you will need.
Decide whether you will hire a moving company or move yourself instead. If you opt for the professionals, you want to find the best moving company and speak with your landlord in advance. Convey the size of the moving van to avoid any confusion, and ask where the moving truck may park.
3 Weeks Before Moving
You are into the final month, and it's time to start packing.
Declutter and Start Packing
Sell, give or throw away things you no longer need so you save time and money during the move. This is especially important if you move into a smaller place or relocate far away.
Start packing the areas and items you do not regularly use, such as books, photographs, seasonal items, extra curtains, bedding and decorative items. First, pack the most challenging rooms, like the storage room or garage. As you seal boxes, label them clearly by room, owner and contents — especially if fragile — to make it easier to unpack on the other side.
Request Time Off Work
Once you lock in the move date, try to get time off work to allow you to focus on the move and unpack without hurrying off to work amidst all else.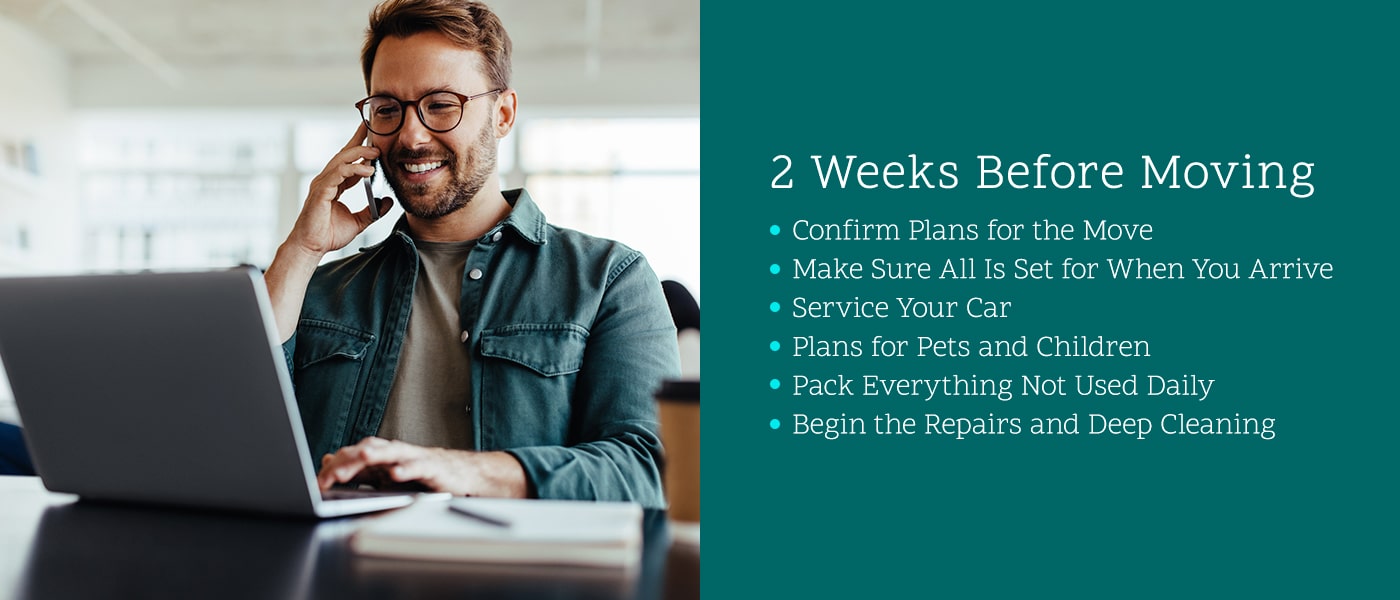 2 Weeks Before Moving
With 14 days to go, the excitement builds as packing continues and you confirm the final plans.
Confirm Plans for the Move
Contact your moving company and confirm the day and time for the truck's arrival and that all fees are covered. Speak with your landlord and confirm the moving truck can park where you agreed. If you live in an apartment or complex, you may need to inform the manager or owner's corporation of your plans, especially if you need to use the elevator and stairs.
Make Sure All Is Set for When You Arrive
While packing, remember the plan for when you arrive at your new place. The utilities should be on when you get there, and all services should be in place.
Service Your Car
Driving around the corner is not an issue. If you plan to travel far, you want your car ready for the relocation journey.
Plans for Pets and Children
Often moving with your pet can be stressful for them. You want your pet in peak health to travel, and if they need something for stress or motion sickness, now is the time to speak to your vet. It would be best if you planned how to transport your pet and organize this well in advance. For the day of the move, you can organize a pet sitter and someone to take care of the kids.
Pack Everything Not Used Daily
Pack all non-essentials and keep the bare minimum out. Chargers, electronics, food, medication and enough clothes to see your through are the types of things to leave out.
Begin the Repairs and Deep Cleaning
With the list of repairs you made, you can now organize to have the necessary repairs and list of deep cleaning requirements done or manage it yourself. However, certain leasers have rules regarding who may do these. If major work needs doing, such as painting walls, store your boxes and furniture out of the way.
1 Week Before Moving
Your house is full of boxes, and you are probably ready for a proper sit-down home-cooked meal. However, there are a few things left to do before heading off.
Schedule a Walk-Through Inspection
Contact your leaser and ask when you can do a walk-through inspection. The place will be cluttered but tidy where possible. Have all repairs and cleaning finished by this point.
Record the Condition of the Rental Property
If your landlord points out any issues during the inspection, please take a look at these as soon as possible and photograph the property for proof of repairs and condition.
Discuss Your Security Deposit
Following the walk-through and any final repairs, confirm with your property manager whether you will receive your security deposit.
Know what your lease agreement states and the security deposit laws — see if there are any necessary deductions. Then inform them where to electronically deposit or mail the check.
Check-In With Your Next Residence
If you need to make any final arrangements, such as collecting keys, or if there are any repairs they need to do before you arrive, go ahead and organize these. For safety reasons and privacy, organize a locksmith to change the locks at your new property if the property manager allows it. Find out when the current tenants are leaving so you know when you can officially enter the property.
Finish Packing
Pack all items except the clothes, food, medication, toiletries and appliances, such as the kettle, into bags and boxes. If you need to use them, live out of suitcases rather than closets or dressers. Organize your food, clean out your refrigerator and pantry and keep what you need until you move. When it's time to pack any appliances, remember how you disconnected and unplugged them so it is easier to set them up later.
Moving Day
After following what to do when vacating a rental property, you reach the big day of the move. Remember to stay calm. You planned correctly, and if there is a mishap, take it in your stride and see what solutions are available.
Essentials to Keep Readily Available
During a move, it is easy for items to be misplaced, whether lost, forgotten or tucked away in a box. These are some things you want to have handy:
House and car keys
ID, driver's license, passport, marriage and birth certificate
Bank and credit cards
Wallet and cash
Medication
Cellphone and charger
Laptop and charger
Jackets
Children's favorite toy
Jewelry
A roll of toilet paper
Drinking water
Packed food
Trash bags
Measuring tape
Getting Set to Vacate
Have an early start to the day, and if you still need to go to work — preferably ask for time off — prep everyone else involved so there is no confusion. Have a hearty breakfast and begin the day. Various things happen on the day of a move, so jot done all the extra tasks, such as:
Keep all essentials in a safe place.
Finish packing last-minute items.
Take out the trash.
Make sure there is no laundry left on the clothesline.
Put any remaining items from the fridge into a cooler.
Defrost the freezer.
Greet and instruct your movers.
Give the driver your contact and new address.
Do a final surface clean.
Take readings and photograph electricity, gas and water meters.
Wrapping up and Moving on
Do a final walk-through to ensure valves are closed, everything is switched off and nothing is forgotten. If there is an alarm, set it and make sure the leaser has the code. Lock all windows and doors and inform the landlord the property is vacant. Check they have your forwarding address and phone number before returning the keys.
Arrive at Your New Home
After a potentially long trip moving in and unpacking begins. Follow these first steps to get you started:
Supervise the move in
Test utilities
Take photos for proof of condition
Plug-in fridge, freezer and other appliances
Check truck is empty and thank the movers
Hang your curtains
Unpack essentials first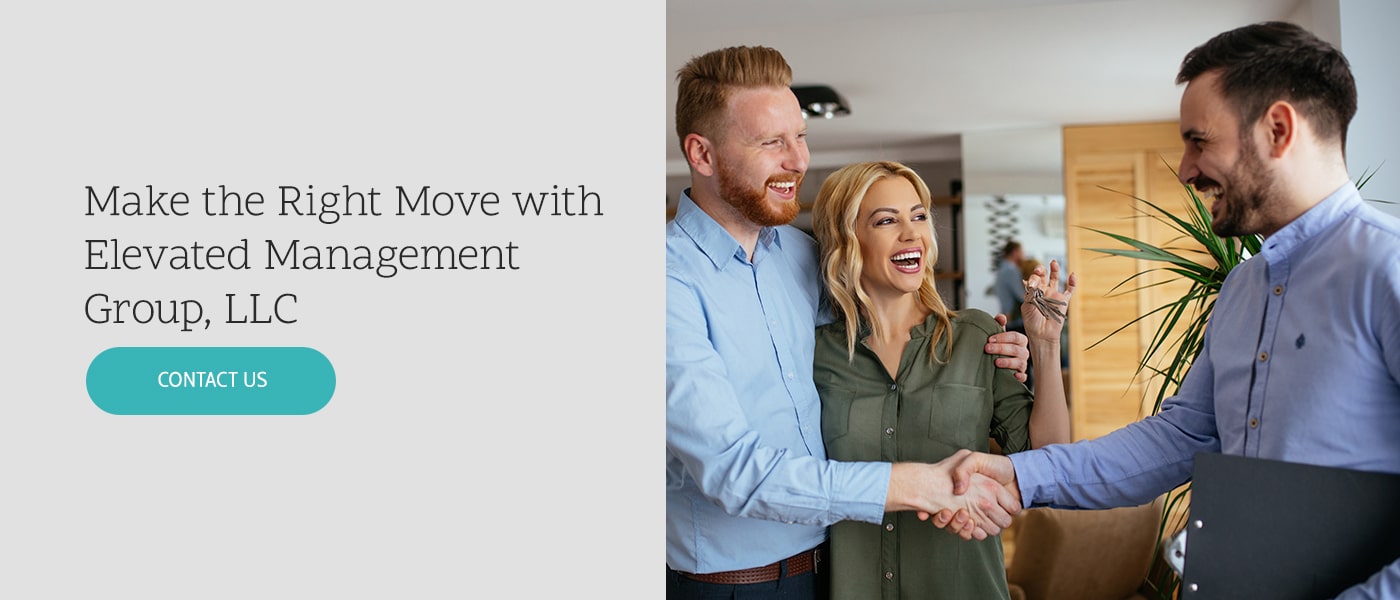 Make the Right Move with Elevated Management Group, LLC
Elevated Management Group, LLC, is a reputable full-service property management group offering services throughout New Mexico. We provide extensive rental experience and pride ourselves on tenant and landlord customer satisfaction by doing things the right and professional way every time.
We find joy in seeing people thrive, and after following the steps in our move-out guide for renters, you should feel confident about your move and ready to find your next New Mexico rental today!