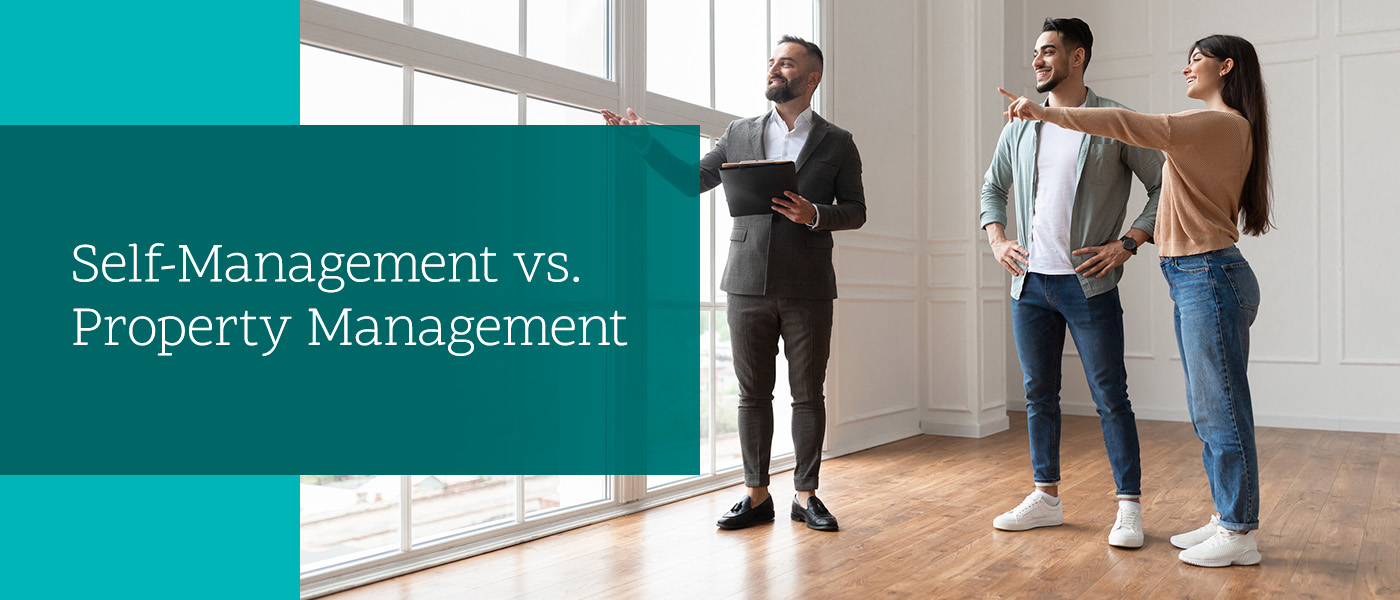 When you buy your first rental property, it can feel tempting to manage it yourself. At first glance, collecting rent payments and finding tenants may seem simple enough. However, self-managing your property is a demanding job and more complicated than many people assume.
Depending on your lifestyle, it might be a better choice to hire a property management company. There are pros and cons to both self-management and property management, and many factors you'll want to consider before coming to a final decision.
It can be daunting to choose between self-managing your property or hiring a third-party company to manage it for you. The right choice depends on your situation and how devoted you can be to the needs of your tenants on a day-to-day basis.
What Is Self-Management?
Before deciding whether to self-manage or hire a property manager, it's important to understand both options. Putting thought into the decision and considering the advantages and disadvantages from every angle will help you make the best choice.
Managing your own rental property means taking on all the duties of a landlord yourself. You're responsible for the day-to-day operations of your property and must ensure it runs smoothly. You're also the point of contact for your tenants when they have issues. Your responsibilities as a property manager would include:
Raising rent.
Dealing with evictions.
Advertising your property.
Screening tenants.
Dealing with complaints.
Enforcing rules and leases.
Obtaining insurance.
Scheduling inspections.
Handling evictions.
Addressing vacancies.
Pros of Self Property Management
First, we'll cover some of the advantages of a self-managed investment property. Acting as your own property manager lets you:
Have complete control of your investment: As a self-manager of your rental property, you receive all of your rental revenue. You have complete control over your investment and what becomes of it. While this can be a significant bonus for some people, full ownership of your rental property may be overwhelming for others.
Save on property management fees: One of the most noteworthy benefits of self-managing a property is saving on property management fees. These fees usually amount to between 7% and 10% of your monthly rental revenue, making these savings significant.
Gain valuable experience: You can gain worthwhile investment and business experience when you self-manage your rental property. If you want to learn as much about the real estate industry as you can, self-managing your properties is a great step to take.
Have a say in your tenants: If you self-mange your property, you have total control over who can rent with you. You can be as selective as you deem necessary for your property.
Build personal relationships with tenants: When you self-manage, you are the one to check up on your tenants, collect their payments and respond to their needs. This contact lets you build trusting relationships and get to know the people living on your property.
Have guaranteed care for your money: There's no one more invested in you getting the most out of your money than you are. If you're self-managing, you're likely to be highly motivated to make the best decisions for your investment.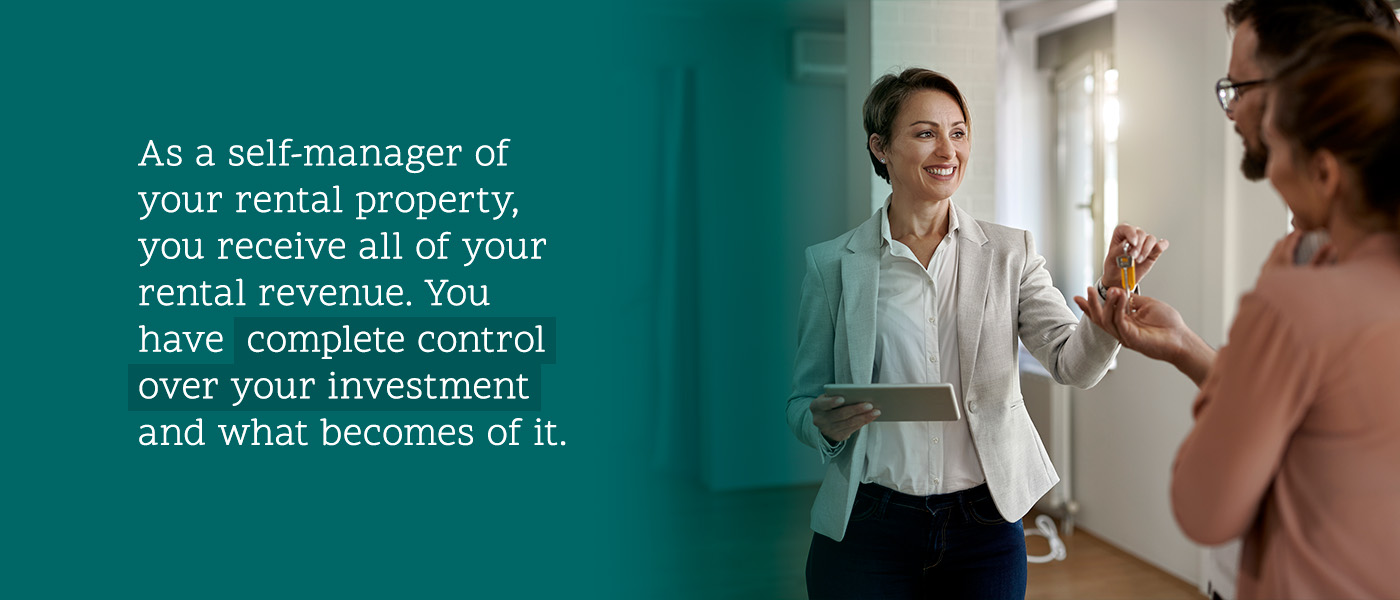 Cons of Self-Management
While managing your own rental property has benefits, it also comes with its fair share of risks, including:
Having to face problems on your own: As a self-manager of your rental property, you are the sole person in charge of dealing with any issues. You're at the very top of the ladder, and ultimately every decision will come down to you.
The time commitment: Self-managing your property is extremely time-consuming. Even a small property creates many responsibilities. Handling them all on your own can be overwhelming and might cause stress.
Dealing with high-maintenance tenants: While some of your tenants will probably be great, you're bound to have some who are a bit more challenging. Whether or not their problems and concerns are ones you have control over, you'll still have to respond to their inquiries. Frequent calls like this can be tedious and patience-testing.
Making costly mistakes: As a self-manager, making a mistake can be extremely expensive. Hiring an experienced property manager can often help you avoid those costs.
Having to deal with unexpected problems: You might have a renter late with their rent, a burst pipe in your property or tenants experiencing an issue with one of their appliances. When you self-manage your property, your schedule has to be able to accommodate sudden issues, even if they require rearranging your entire day to fix them.
The potential for misunderstanding property laws: Learning the rules of your area takes a lot of time and effort. Missing an intricacy or nuance of the law can result in significant problems for you later.
Being in charge during uncomfortable situations: If you self-manage your property, you're in charge of letting tenants know about increases in rent and possible evictions, which can be a challenging position to be in.
What Is Property Management?
Property managers take on the responsibility of collecting payments, answering tenants and performing other day-to-day operations of your property. For a portion of your monthly rental income, they manage the needs of your business, both big and small.
While you still own the property, a project manager ensures everything runs smoothly for you. While you can retain some responsibilities if you want to, property managers generally handle most of a property's operations.
Property managers can be a great asset when:
A tenant calls with a problem in the middle of the night.
You need an electrician to inspect your property.
You need to fill an unexpected vacancy.
One of your tenants is behind on payments.
You need to schedule maintenance checks or inspections.
A tenant damages your property.
The benefits of hiring a property manager are especially clear for people who want to save the time it takes to run their rental. Read on to see if it would make a good fit for your business.
Pros of Property Management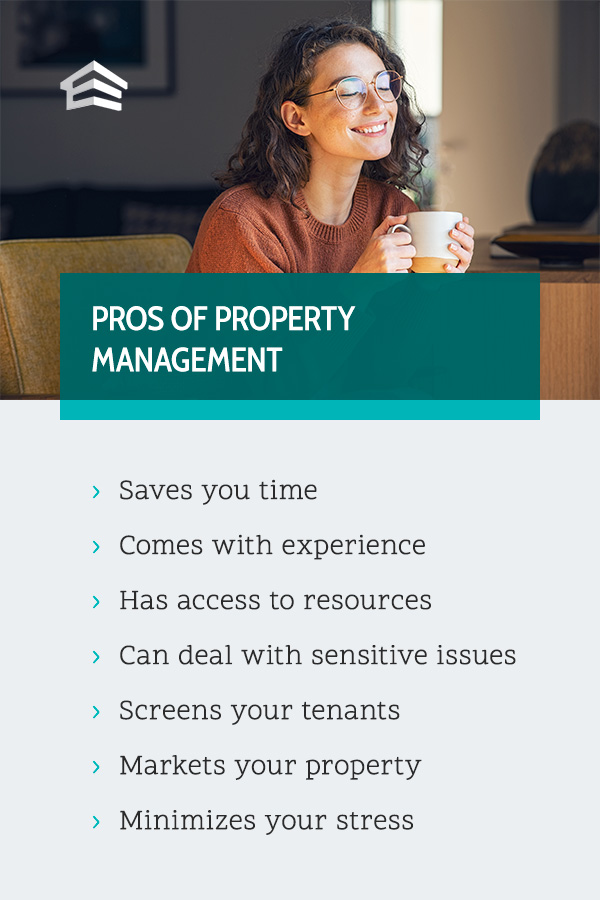 As with self-management, there are pros and cons to hiring a property manager. A third-party property manager:
Saves you time: It always feels great to check tasks off your to-do list. Sometimes, though, it's even better to hand the responsibilities over to someone else entirely. One of the great benefits of property management is you'll save the time that you would otherwise spend on doing maintenance checks, collecting payments, responding to tenants' requests or advertising your property. If you find those tasks mundane, hiring a property manager might be a great option for you.
Comes with experience: Good property managers are licensed and know all the ins and outs of rental law, which can be a challenge for new property owners. Experienced property managers have also dealt with various problems and will know what to do when issues arise at your property.
Has access to resources: Property managers have access to many helpful resources. When you hire a property manager, it's like you're hiring an entire team of professionals to take care of the details for you. A good property manager will have connections to realtors, plumbers, electricians and other professionals trained to help with property issues. Additionally, property managers receive policy updates quickly and can make you aware of them fast.
Can deal with sensitive issues: Raising rental prices or dealing with evictions can be extremely challenging. With a good property manager, you'll have someone to face those issues with you and ensure you both handle them properly.
Screens your tenants: The freedom to select your tenants yourself may seem like a bonus of self-managing your property. However, first-time self-managers might not know what to look for in a potential tenant. Property managers know what to look for in potential renters and can find reliable tenants for your property.
Markets your property: Getting the word out about your property can be a very time-consuming process. A property manager will figure out the best way to market your property using methods that will save you time and money.
Minimizes your stress: An expert third-party property manager makes it much easier for you to run your business. Having help with managing your property will let you resolve your tenants' issues more quickly or ensure your property is getting the care it deserves.
Cons of Property Management
Property management does come with some potential disadvantages as well. Cons of property management include:
Cost: You'll have to set aside money to pay a property manager every month for taking care of the property's operations.
Risk of a disappointing property manager: When you hire a property manager, you may end up working with someone who's less invested in your property than you are. Likewise, they might not put the proper amount of time or effort into managing your property. It's important to do your research and find an honest, experienced property manager to care for your investment.
Less personal experience with tenants: Since a property manager handles renter requests, your contact with your tenants might be more limited than if you were self-managing your property. If cultivating a relationship with your tenants is important to you, you may see this as a drawback. With some effort, however, you can still pursue that goal even if you hire a property manager.
Self Management Vs Property Manager Hiring
Whether self-management or property management is the best choice for you will depend on several factors. 
The biggest details to consider are your budget restraints and how much time and flexibility you have in your day-to-day schedule. Additionally, you should consider where you live, your personal qualities and what's best for your renters.
Your tenants and how many properties you own can also help determine your best option. For example, you might only own one property that you rent out to a low-maintenance, pleasant family. In this case, managing your rental property could be a good opportunity. If you have one tenant whose payments are always on time, you may have little need to pay a property manager a portion of the rent every month.
However, if you own multiple properties, are looking to invest in more or have tenants who are more demanding of your time, hiring a property manager might pay off. Property management might also be for you if you currently live or want to move a distance away from your properties. With a property manager, you'll still have someone nearby when your tenants need help.
A property manager can alleviate some stress if you're still learning the necessary maintenance skills, or if the idea of having complete control seems overwhelming. With someone qualified in charge of operations, you can be confident your property is being taken care of.
You should also consider your renters when deciding between self-management and a property management company. Renters appreciate it when their property manager responds to their needs quickly, effectively and accurately. Consider whether your schedule will allow you to respond to their needs in the way they need.
How to Hire a Good Property Manager
Many of the cons associated with hiring a property manager stem from hiring someone less invested in your property than they should be. That lack of investment can be especially frustrating when you're paying someone a monthly percentage to take care of things. Choosing the wrong property manager can result in a lack of communication, overlooked guidelines and unreliable tenants being chosen for your properties.
A good property manager makes all the difference. Choosing the right one is the best way to ensure you're getting the most out of your monthly payments. When you're  looking for a qualified property manager, ask questions like:
How much do you charge?
How much experience do you have?
Do you have connections to other industries such as plumbing and electrics?
What is your screening process for new residents?
Do you know how to market my property?
Do you have measures in place to handle emergencies?
Is your staff experienced?
Will you make a personalized plan for my property?
How many units are you currently managing?
These questions will help you pick a property manager who's just as invested in your property as you are.
Contact Elevated Management Group for More Information on Property Management in New Mexico
Interested in learning more about what a property management company can do for your business? Elevated Management Group can help. We are a full-service company servicing areas across New Mexico, including Albuquerque, Farmington, Rio Rancho and Bernalillo.
Our staff is licensed and ready to answer any questions you might have about property management. We provide services for single-family homes, multiplexes, condos and apartment buildings with 100 units or less. We're dedicated to helping you reach your investment's full potential and can help you understand the intricacies of owning a rental property. If you're ready for more information, contact us online today!